Hélène Desmarais, C.M., O.Q., LL.D.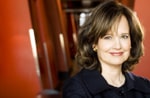 BIOGRAPHICAL NOTES – HÉLÈNE DESMARAIS, C.M., O.Q., LL.D.
(written by Michael Carin, Editor of Montréal Business Magazine from 1994-2005)
A Life of Engagement:
Hélène Desmarais is a graduate in finance of the École des hautes études commerciales (HEC Montréal).
For the past twenty years she has committed herself in diverse ways to the economic, educational and cultural development of her province and country. She has brought vision and resolve to the commercialization of innovation, and uncompromising rigor to economic policy.
Mrs. Desmarais has made significant contributions in supporting the development of new economy entrepreneurs. Her endeavours have been driven by passion, distinguished by perseverance, and repeatedly crowned by success.
Her personal missions and public contributions have pursued a common goal – excellence. All of her abilities have been directed toward achieving the paramount aim: advancement for society in business, the academy and the arts.